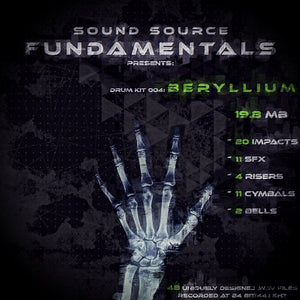 Introducing Drum kit 004: Beryllium
The 4th drum kit in our table of elements collection is sure to please those looking for a mechanical industrial style drum kit with huge sounding impacts. No subtleties in this one. From the steam inspired high hats & cymbals to the huge metallic impacts this is the perfect kit for those who are searching for that metallic mechanized drum sound. Beryllium is a 48 piece loud & punchy industrial themed drum kit with 20 massive sounding impacts, 11 uniquely themed SFX, 4 machine like risers, 11 steam inspired cymbals & 2 mechanized bells. 48 uniquely designed .Wav files 19.8 mb recorded at 24 bit/44.1 kHz these professionally designed sounds will fit into any modern electronic genre of music.
Royalty free, mixed, master & ready to go.
 48 Piece industrial themed drum kit
-20 Individually tuned impacts
-11 percussive SFX
-4 Unique risers
-11 Industrial based cymbals
-2 mechanical bells