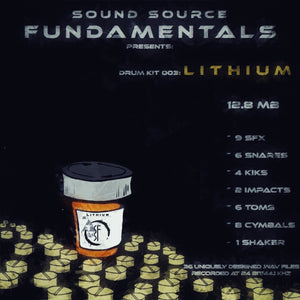 Introducing Drum Kit 003: Lithium
The 3rd kit in our table of elements collection is sure to please those looking for an electro style kit with the excesses of the 1980's. From the subtle & snappy kicks to the huge sounding snares this kit is perfect for those into the electronic sound. Lithium is a 36 piece loud & punchy electro/ 80's drum kit with subtle & snappy kicks, impacts and toms. 6 huge cracking snares & 9 uniquely designed SFX. 36 uniquely designed .Wav files 12.8 mb recorded at 24 bit/ 44.1 kHz these professionally designed sounds will fit into any modern or vintage electronic genre of music. 
Royalty free, mixed, mastered & ready to go!! 
- 9 SFX
- 4 Kicks/ Sub 
- 6 Snares
- 6 Toms
- 8 Cymbals
- 1 Shaker