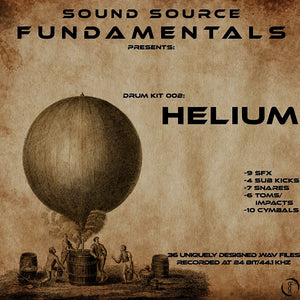 Introducing Drum Kit 002: Helium
The 2nd drum kit in our table of elements collection is sure to please those looking for a vintage meets future drum sound. From the reverse risers to the booming impacts this kit has what you need for your next track. Helium is a 36 piece airy trip hop/ industrial drum kit with deep & boomy sub kicks & impacts,  4 snappy snares & uniquely designed toms & SFX. 36 uniquely designed Wav files14.3 mb recorded at 24 bit/44.1 kHz these professionally designed sounds will fit into any modern genre of music.
Royalty free, mixed mastered & ready to go!! 
- 9 SFX
- 4 Kicks/Sub
- 7 Snares
- 6 Toms/impacts
-10 Cymbals