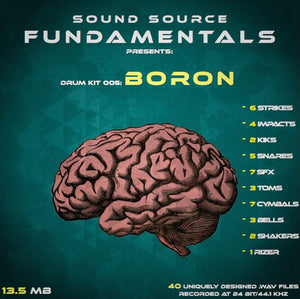 Introducing Drum Kit 005: Boron
The 5th drum kit in our table of elements collection is our most diverse kit by far.
Post apocalyptic in nature but also able to suit any genre of music but favoring a more experimental contemporary sound.
Shakers to impacts & everything in between. This kit has it all. This is the perfect kit for those who are searching for that metallic mechanized drum sound. Boron is a 40 piece loud & edgy style drum kit with 10 massive sounding strikes & impacts, 7 unique industrial percussive SFX, 2 deep kicks, 5 punchy snares, 3 booming tuned toms, 7 crispy cymbals, 2 shakers, 1 river & 3 uniquely designed water bells. 
40 Uniquely designed Wav files 13.5 mb recorded at 24 bit/44.1 kHz these professionally designed sounds will fit into any modern genre of music.
Royalty free, mixed mastered & ready to go!!
40 piece cinematic/ Industrial themed drum kit
- 4 Impacts
- 6 Action Strikes
- 7 Percussive SFX
- 1 Rizer
- 7 Cymbals
- 3 Tuned Water Bells
- 2 Kicks
- 5 Snares
- 3 Toms
- 2 Shakers