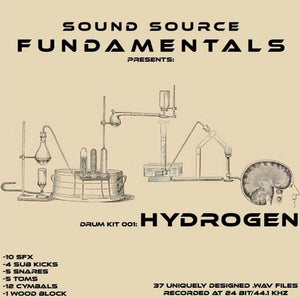 Introducing Drum Kit 001: Hydrogen 
The first drum kit in our table of elements collection will not disappoint. Built from the ground up starting with a vintage drum kit recorded in house then tweaked & reassembled by our sound designers to create a fresh & unique take on what a drum kit can be. 
Described as romantically scientific and space age, Hydrogen is a 37 piece aggressive industrial esque style drum kit with deep & boomy sub kicks, snappy snares & uniquely designed toms & SFX. 
37 .Wav files 24.3 mb recorded at 24 bit/44.1 kHz these professionally designed sounds will fit in any modern genre of music.
Royalty Free, mixed, mastered & ready to go!
-10 SFX
-4 Sub Kicks
-5 Snares
-5 Toms
-12 Cymbals
-1 Wood Block